UFO – Ultralight Flying Object
Details that do matter!
During the development of the UFO, product longevity was a foremost consideration for us at AirDesign. Due to the fact that there is no supporting lower sail, the internal ribs are supporting higher loads, compared to that of conventional gliders. As with normal glider material, this internal rib material is equally susceptible to ageing, however, these ribs are normally located inside the glider – well protected from upper and lower sail.
Keeping this in mind, we have supported all ribs with extra edging tape. The amount of extra work in production associated with applying this feature is similar to sewing a conventional glider with a bottom surface. Still, we were able to keep the weight incredibly low – with 1.6kg at size 14.
For alpine applications, it's important to have a wing with good speed and durability. The UFO fulfils both criteria. All sizes of the UFO are easy to fly and exhibit very forgiving handling characteristics. With remarkably simple and stable launch phase response, coupled with extremely relaxed flight behaviour, the UFO is an incredibly safe and fun glider. The UFO is a revolutionary "single surface glider" without a bottom sail.
UFO 14: The best choice for very light pilots.
UFO 16: Allrounder – for light pilots it's an intermediate wing, with more load it gets mini-wing character.
UFO 18: Allrounder – suitable for the majority of pilots.
UFO 21: Intermediate EN-B characteristics.
First appearance and impression of the UFO is that the design is completely unconventional, but we've built in flying characteristics to be more or less the same as what you'd expect from a standard conventional glider.
Depending on the respective wing loading, the trim speed changes and so does the character of the wing: The "green" area (see chart) – represents the ideal range for intermediate pilots. The UFO flies like a conventional glider, comparable with other low-level EN-B wings. When flown in the "violet" area, the wing flies faster and feels more like a mini-wing – increased speed, more agility, and greater overall responsiveness – aimed at more experienced pilots.
The UFO 21 can be flown at a range of 75-90kg within EN-B. Up to 120kg the glider has achieved an EN-926-1 (load-tested certification).
Irrespective of whether you're adopting a forward or reverse launch technique, the UFO inflates overhead with one step. It resists overshooting tendencies that you may normally expect within the category. The canopy design actually ensures that the glider centres itself without pilot input.
The special concept of single-surface technology translates to enhanced lift – meaning that the lift that the UFO 21 generates is more comparable to a conventional 26m² wing. That's why launching is so easy.
Even on the smallest of take-off locations, it's possible to launch effortlessly thanks to the compact dimensions of the UFO and its outstanding starting behaviour.
At first launch, the UFO feels a little different to any other conventional paraglider due to the construction. With the exclusion of the bottom sail, glider feedback is more direct in nature. The overall impression in flight is confidence inspiring. Climbing behaviour in thermals is excellent, and the glider remains stable in all conditions.
You will find edging tapes on the trailing edge as well as in on the nose area of the glider. We could have easily just flipped the edge over and sewn it together, but using an edging tape actually also provides a benefit by keeping the exact tension required.
These features pose to increase in product weight, but are absolutely necessary to sustain and guarantee safety and durability on a long term basis.
RAM-AIR-STRUTS: With the implementation of our 'RAM-AIR-STRUT' technology, we are able to achieve excellent speed and performance (glide angle around 7) within the hike and fly category. These struts are v-shaped closed cells that are pressurised by 'shark nose' styled leading edge intakes. These self-inflating struts provide the glider with greater overall stability in all flying conditions.
• Ultralight Dyneema risers with incorporating a 3-line configuration (A,B,C) with accelerator
• Polyamide rods in leading edge for enhanced performance
• 3D-cut leading edge
• Light-weight construction (Skytex27, unsheathed lines, lightweight risers)
• Edging tapes integration on ribs for durability
• Rapid descent manoeuvre capable (big-ears, b-stall, spiral)
• Excellent starting behaviour
• Very small packing volume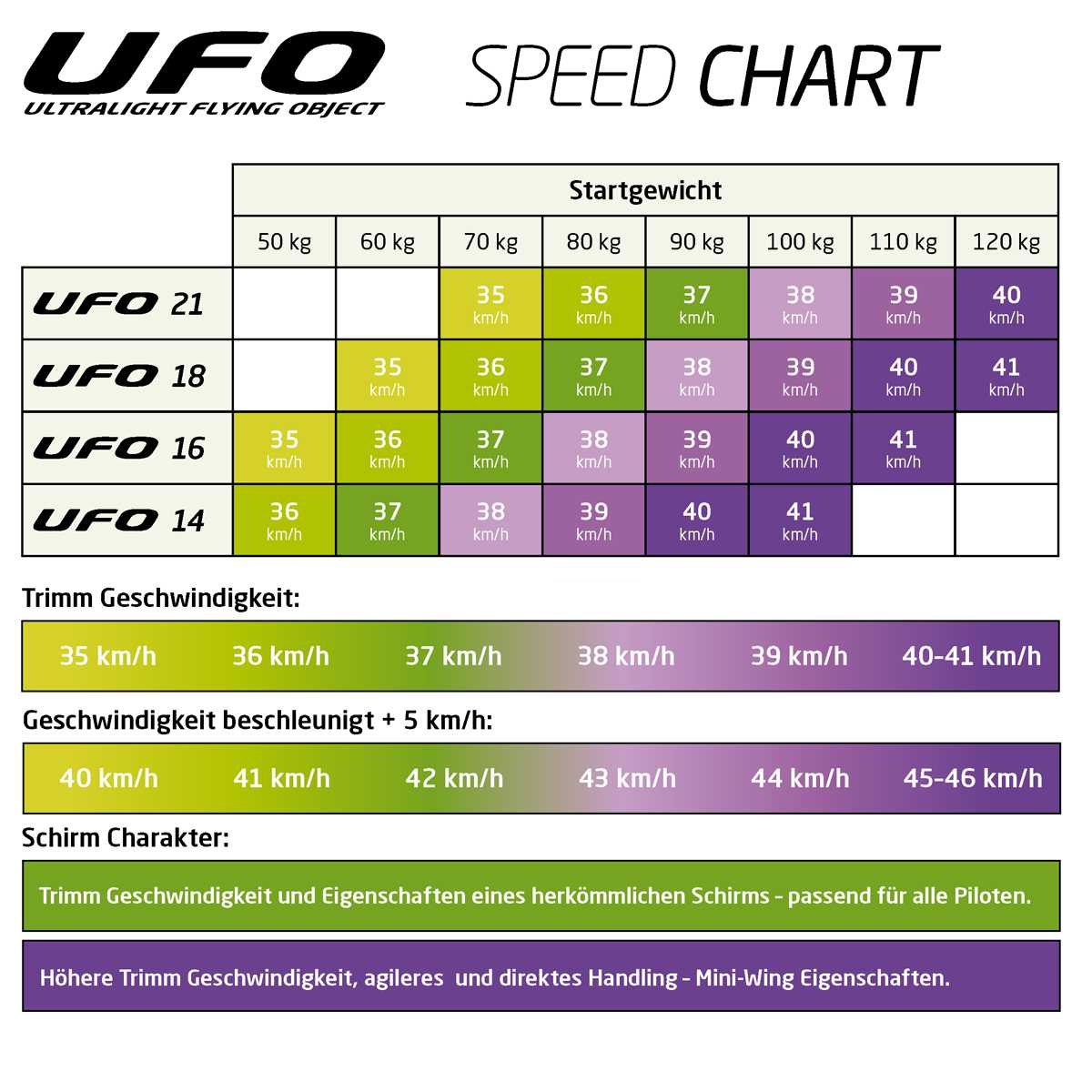 | Size | 14 | 16 | 18 | 21 |
| --- | --- | --- | --- | --- |
| Area flat (m2) | 14,50 | 16 | 18,08 | 20,61 |
| Area projected (m2) | 12,14 | 13,38 | 15,12 | 17,24 |
| Span flat (m) | 7,87 | 8,26 | 8,78 | 9,38 |
| Span projected (m) | 6,08 | 6,38 | 6,78 | 7,24 |
| Aspect ratio flat | 4,26 | 4,26 | 4,26 | 4,26 |
| Aspect ration projected | 3,04 | 3,04 | 3,04 | 3,04 |
| Struts | 6 | 6 | 6 | 6 |
| Cells | 35 | 35 | 35 | 35 |
| Total line length (incl. brake lines) (m) | 226 | 237 | 252 | 269 |
| Total lines incl. brake lines | 222 | 222 | 222 | 222 |
| Weight (kg) | 1,60 | 1,70 | 1,80 | 2,00 |
| Vmax (km/h) | + 5 km/h | + 5 km/h | + 5 km/h | + 5 km/h |
| LTF/EN Category | EN-926-1 | EN-926-1 | C | B |
| Take off weight (kg) according EN | 50-70 | 55-70 | 60-80 | 75-90 |
| Recommended take off weight "standard" (kg) | 50-60 | 60-70 | 70-80 | 80-90 |
| Recommended take off weight "mini-wing" (kg) | 70-100 | 70-110 | 80-120 | 90-120 |